Lotus Foods Organic White Jasmine & Forbidden Rice Blend Heat & Eat Pouch 8oz
Regular price

Sale price

$6.99

Unit price

per
Share
Exceptional rice just got even easier! Grown on family farms, this organic white jasmine and black forbidden rice blend is uniquely rich and naturally nutty. The heirloom grains cook up quickly with a lovely aroma and texture. If you want to microwave, they cook in 90 seconds. If you stay away from microwave cooking for health reasons, simply pour a teaspoon or two of hot water right into the heat and eat forbidden and jasmine rice pouch, then stir to enjoy.
It's all about a love story...a love story for rice. After tasting black rice during travels in China and learning it was called "longevity rice" usually reserved for Chinese Emperors to ensure their good health and long life—goals were set—to do the rice thing and make rice more sustainable. Now, Lotus Foods is changing how the world grows rice! Promoting organic agriculture, rice biodiversity, fair trade practices, and More Crop Per Drop. It's important since half the world's population depends on rice, rice is life.
Whole grain and gluten free, Lotus Foods Heat & Eat organic white jasmine & forbidden rice pouches put an easy dinner on the table in no time! Ready in seconds, enjoy precooked rice for family dinners and side dishes along with your favorite proteins or vegetables. Lotus dark forbidden and light jasmine rice pouch is superb in stir fry's, curry recipes, rice pilaf, sprinkled in salads and soups, or as a simple, satisfying side dish all on its own.
Organic
Non-GMO
Gluten Free
Vegan
No Preservatives
Fair Trade and Sustainably Sourced
INGREDIENTS: Organic White Jasmine Rice, Organic Black Rice, Water.
Product packaging may vary. In-stock items may take 10-20 business days to arrive.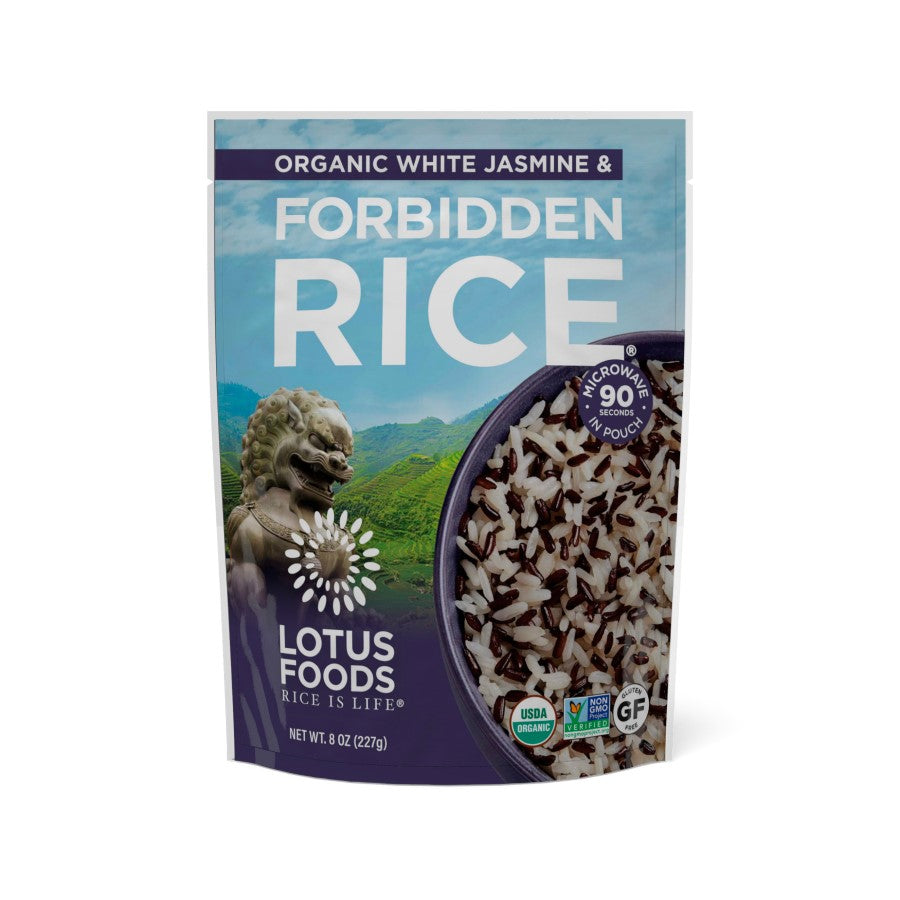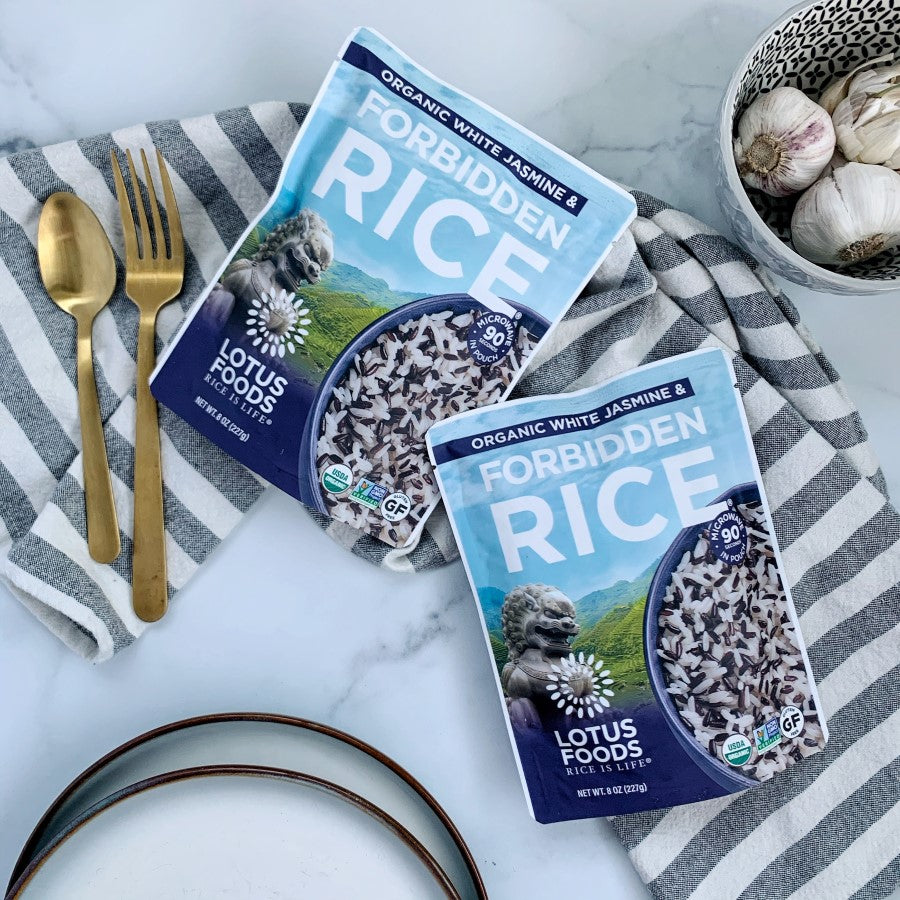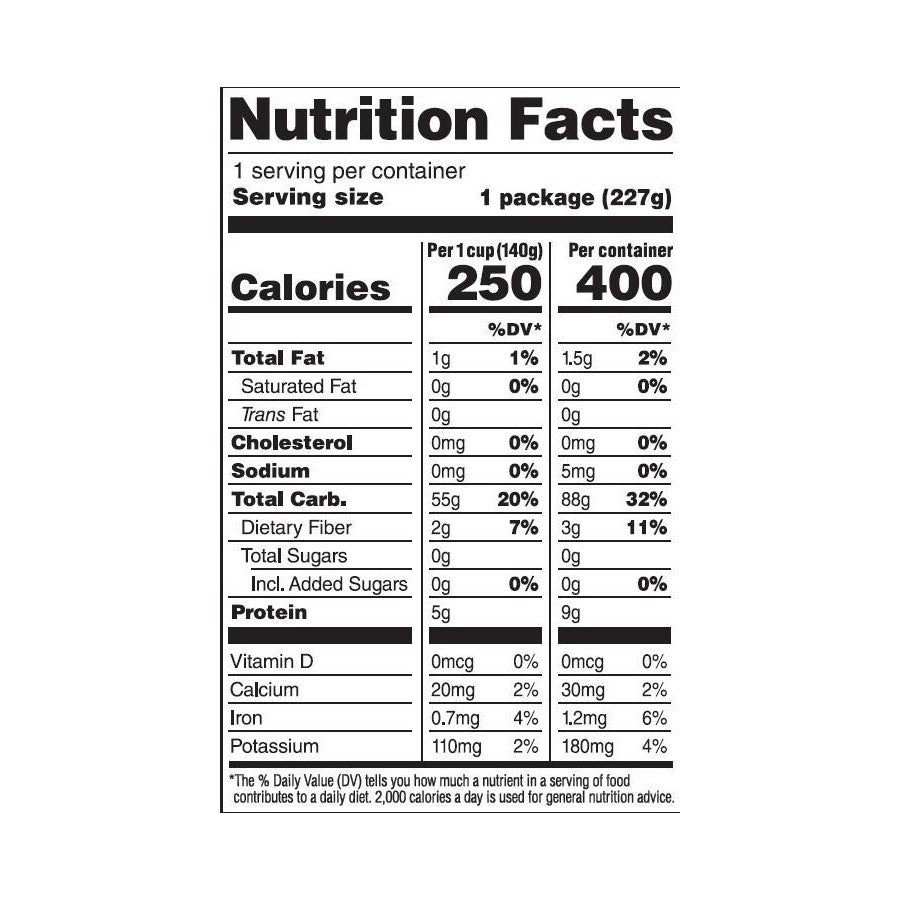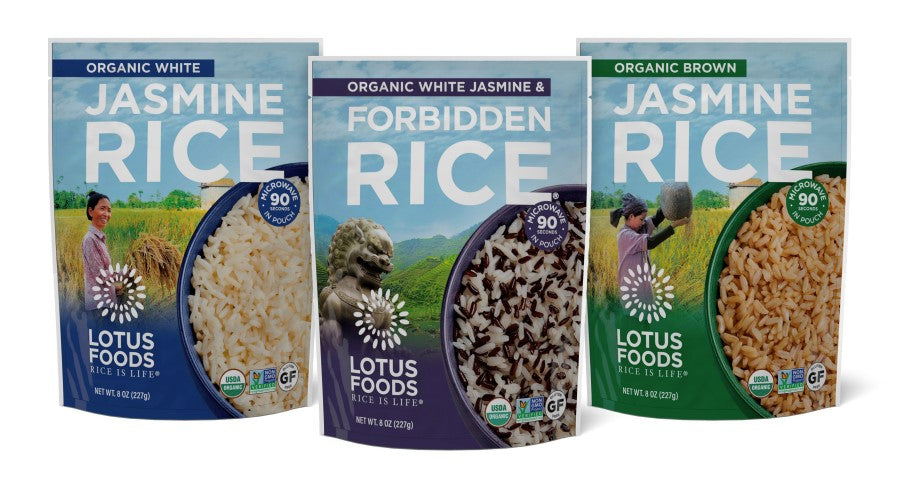 Forbidden rice plus convenience
I love this rice and the 90 second pouch is so convenient!
Hope you make a 90 second pouch with just forbidden rice some day???
So glad you like these, we also enjoy them! :) We'll definitely keep our eye out for a Forbidden Rice only version of the Heat & Eat pouch from Lotus Foods if they make that available in the future. Thanks for your review!